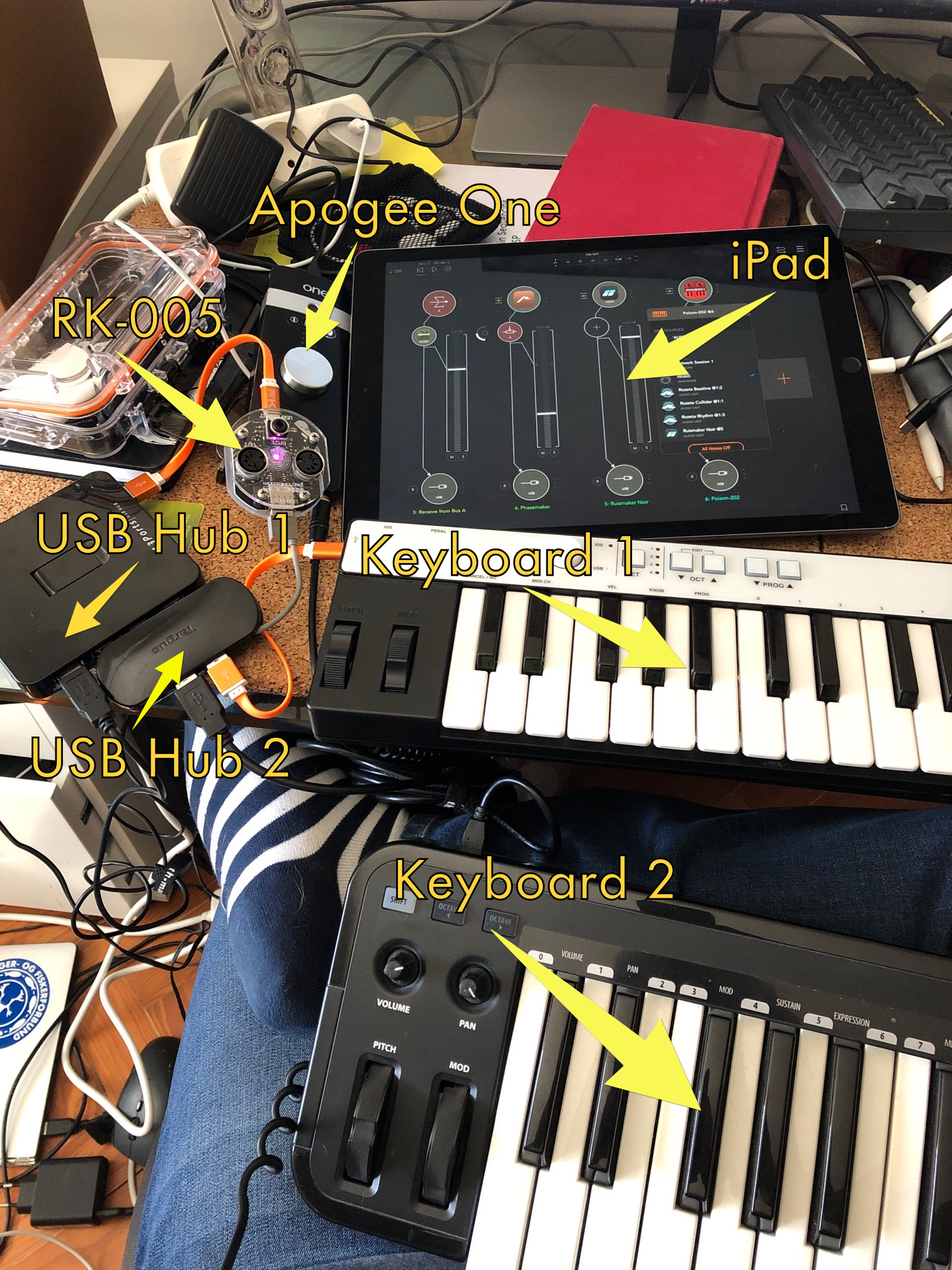 Lately I've been having fun playing around with audio apps on the iPad. There has been a lot of development in this area, so there are plenty of synths, sequencers and audio effects available to play around with, and for a fraction of the price of hardware equipment, and also cheaper that software available for the Mac.
Up to now connectivity has been an issue. I have an external audio interface and a couple of MIDI keyboards, and wanted to hook them up to the iPad. First I thought I would need a new dedicated audio/MIDI interface since my iPad only has a single Lightning port, but then I started thinking.
By using the Lightning to USB 3 Camera Adapter I get a USB port for the iPad (as well as a pass-through Lightning port for charging).
It is possible to connect a USB Hub to the USB port. In my shelf I already had a powered USB hub that I could use. I could then connect my audio interface to this hub.
I tried this, and lo and behold, the iPad recognized it immediately. Some of the MIDI keyboards could be connected directly to the hub with USB cables, which would work, but I also had a RK-005 USB Host laying about. This is a nifty piece of gear that is able to merge signals from multiple connected USB controllers. This makes the signals easier to handle on the iPad side, as the MIDI appears to come from a single connected device instead of from various different sources. By connecting a second USB-hub to the RK-005, I could connect all my devices to it.
Granted, there are a few wires to keep track of, but it is nice to have everything connected to, and working with, the iPad, especially since I already had all the gear I needed to get it running in the first place.
If you are starting from scratch, a solution like the iRig Pro I/O from IK Multimedia seems to be a nice option as well. It also provides audio, MIDI, and with the optional power supply also charges the iPad while in use. This was the solution I had planned to purchase before realising I already had everything I needed to set up the system.